Sycamore Ranch
Home for Sale.... and it's
on 3.77 Acres... Yet Low Maintenance
---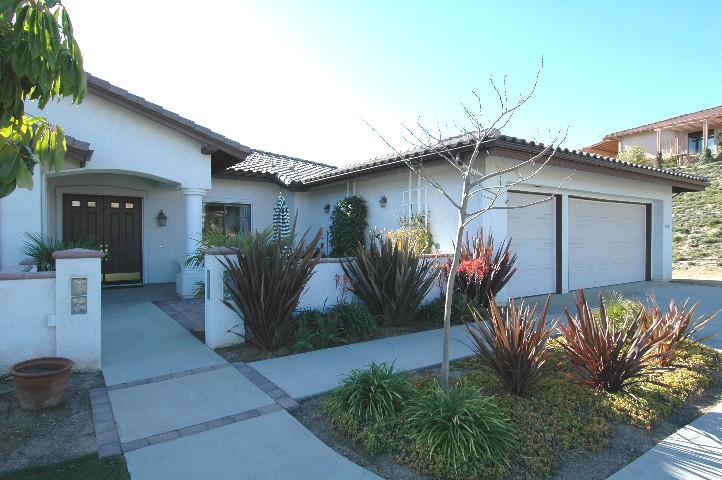 ---
This is a very unusual... and desirable combination of large lot... 3.77 Acres... and... very low Maintenance. The value of the nature reserved (Open Space Easement) acreage... privacy... seclusion... quiet... and a "Oneness with Nature". View the plat map of Parcel R... APN # 124-397-11-00 ... note the extended acreage to the West. Note the Open Space Indicated... and note too.. the 1* indicated Equestrian and Pedestrian Trail. This is direct access to the new... very exciting... San Luis Rey River Park and +/- 1,600 Acres of Open Space Preserve... and miles of Multi Use trails. You will be able to hike from your own yard through a diverse network of trails... and facilities... enjoying Riparian and Upland terrain... and unlimited access through endangered species habitat... and into Community Education facilities throughout the park. So... look at this as... your 1,600 Acre ranch... with about .7 Acres of low maintenance yard. This is an incredible opportunity.
---
Click Here for a virtual tour... with shots of "The Golf Club of California"... and additional photos!
---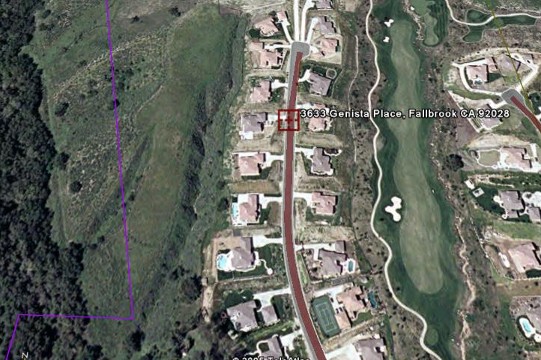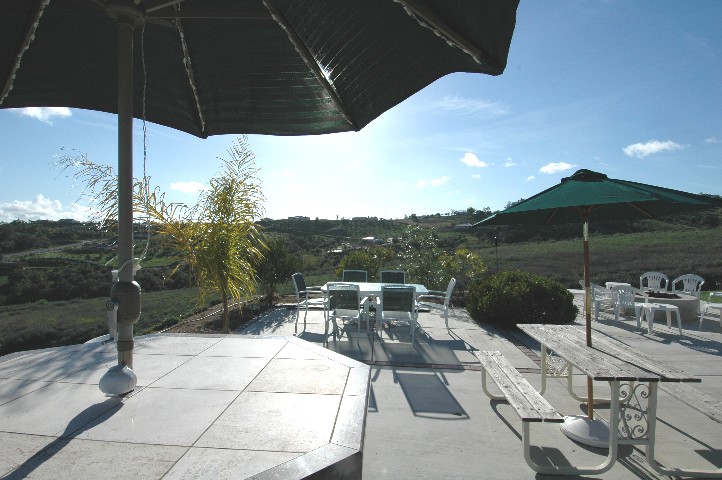 ---

With the help of Google Earth... the photo above actually shows the Equestrian Trail to the West of the home... at the bottom of the second Barranca (Just to the left of the purple map line indicator). Master planned Golf Centered residential community... and... actually part of the Regional Park... what a combination. The experience... well the second photo above... taken at the Patio Bar and BBQ... looking West... into the Open Space.. captures it. Solitude. Nature. Quiet. Privacy. An incredible experience ... and truly Unique to very few homes. Throw in the daily Ocean Breezes... and you have a Nature and Weather Paradise.

---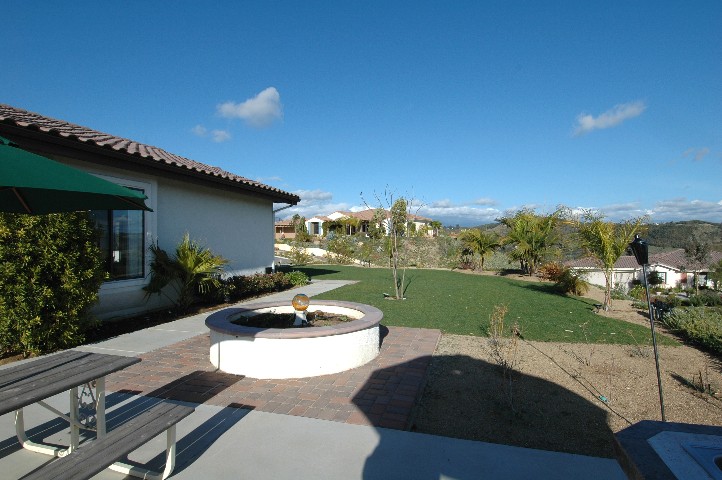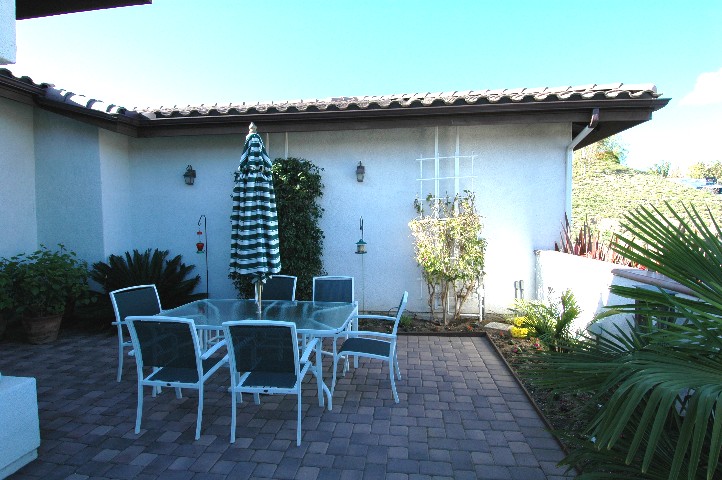 ---

The South Patio shown above has a 180 degree unobstructed view over neighboring homes... with views over the new park to Bonsall beyond. Snow capped Mt. Vistas framed by palm trees... San Diego County just doesn't get any better than this. The sprawling Spanish Ranch design has elegant Mission Tile Roofing... and the Romantic ... Traditional Courtyard Entry. Very little lawn to mow... excellent use of ground covers and shrubs... wisely chosen drought resistant plants... and patios everywhere... why you could actually take off and travel .... any time you want!

---
Click here to see another page of photos... information... and additional links...
---
This home is offered in Prudential California Realty's Value Range Marketing. The Seller will Entertain offers in a range of $950,000 to $1,075,876
---

To have value range marketing explained, make an appointment to view the home, or have your home featured on the internet in this manner, contact: Terri and Paul Guess , Associate Brokers, Prudential California Realty. 527 Encinitas Blvd., Suite 100, Encinitas, CA 92024. Phone: (760)NEW-HOME (639-4663) or FAX (760)940-6329 This home is offered through the San Diego County Association of Realtors MLS Number 061026940 We are also Members in MRMLS and our listings are exposed to all of the realtors in Riverside, San Bernardino, Orange and Los Angeles Counties at Listing # T606424 This extra effort and marketing investment Doubles Our Exposure on all subscribing sites such as Realtor.com

---
Visit our Home Page