Newport Beach Condo for Sale
In the Heart of Balboa Peninsula
---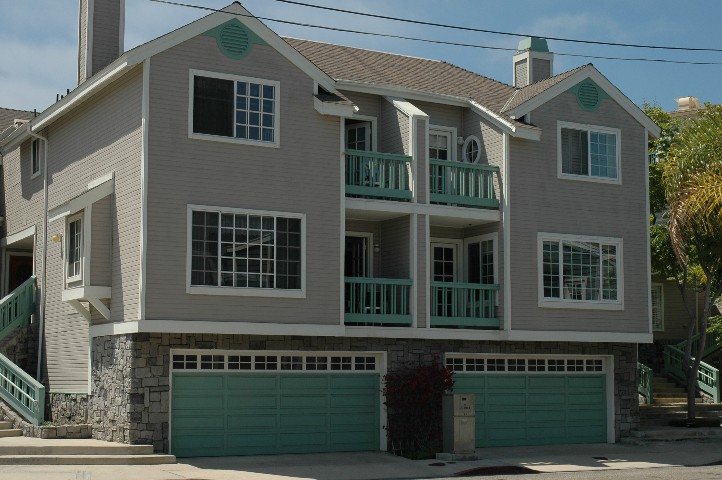 ---
Ever since 1906 when the Balboa Pavilion was built by the Newport Bay Investment Company... Balboa has been a destination for Fun Seekers. The oldest adage in Real Estate.... Location... Location... Location could not be more evident than in this spectacular Newport Beach Condo for sale... in the Heart of Balboa Peninsula. What are the things you want in a Beach Condo. Walking Distance to restaurants... Walking Distance to Shopping... Walking distance to the Bay... Walking distance to the Ocean and Surfing. On Balboa in particular... Walking Distance to The Fun Zone... Walking distance to the Ferry... and Walking distance to the Balboa Pier. Of course you want space for guests... privacy... secure off street parking... a huge gourmet kitchen... move in condition... granite... marble... hardwood... storage... large closets... an open flowing floor plan would be nice... and why not a great character to it as well? And you want to steal it. Ok... here's your chance to have it all. 315 Cypress Street, Balboa CA 92661
This investor owner sees this buyer's market as exactly the perfect time to move up... and has purchased a larger unit on the 21st Floor of "The Legend" in the San Diego Gas Lamp district.... here is your chance to pick up this Balboa Treasure he has created over the past few years. This is absolute proof positive that now is the time to buy property in Newport Beach.
---
Click Here for a Virtual Tour of this Newport Beach Condo for Sale... with Additional Information & Photos
---
---

The shaded courtyard entry is discretely tucked into the corner... well back off of the Quiet wide Cul-de-Sac. A few steps above grade... to allow for interior access to a oversized two car garage ... you will find the gorgeous Oak and Leaded Glass door to paradise. As soon as you step inside this Newport Beach Condo... you will know you have arrived. This is not a short sale... this is not a distressed sale... this is a turnkey... Move in Ready... treasure... that is Spotless... Beautifully Decorated... and priced to sell. This is what a motivated seller looks like. And if you own one of the many smaller... older units in Balboa... here is your chance to move up as well. Now... if you don't own in Balboa... here's your chance... why not start at the top :-) If you live out of area... as the current owner does... Fly in... Cab from the Airport... keep a hot rod in the Oversized Garage... this was designed for Fun! If you're reading this in Canada... take your 40% improvement on the dollar... and buy at a 20% reduction from what this would sell for in a different market... but ... don't delay... This sale is subject to a 1031 Reverse Exchange... and is priced to make it happen now... and Now is the time to get on with your life... .

---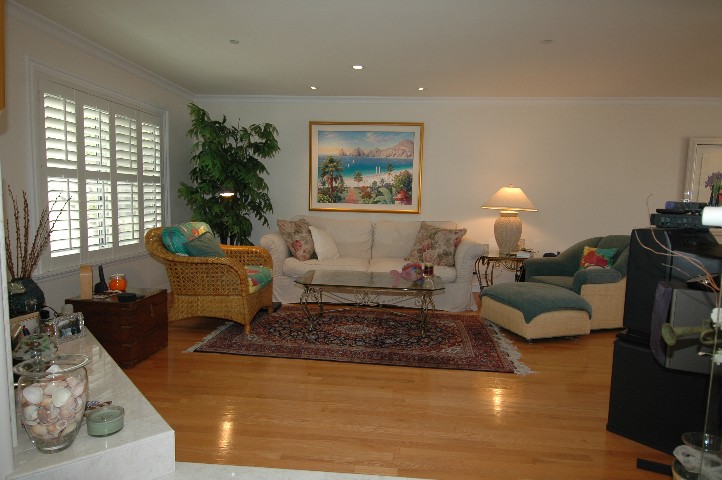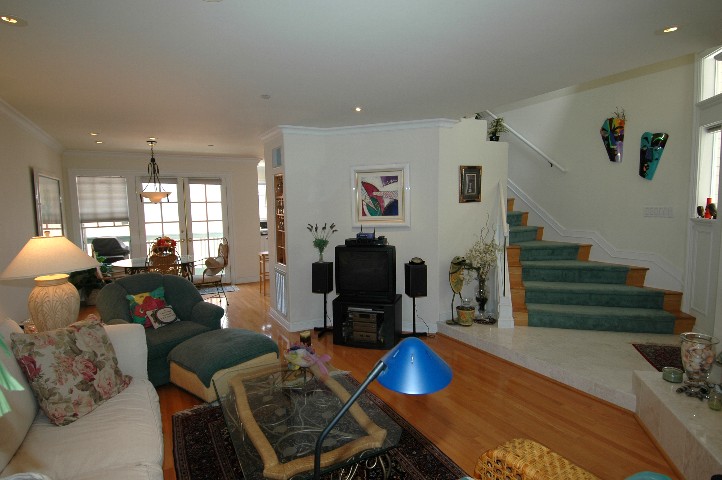 ---

Step into the marble entry... this is Roughing it at the Beach... Balboa style. Marble Entry... Marble Hearth and fireplace surround... Rich warm Hardwood Floors... Decorator Recessed and Dimmer controlled canned lighting... Plantation Shutters... Classic High Base Boards... wonderful Crown Molding.... and a Floor Plan designed for entertaining in style. The design and charm of the Architecture is not just pleasing to the eye... it is functional. Defined spaces... Privacy... Air and Noise control... and yet the eye flows through spaces and the experience is much larger than the ~1,400 sq ft on tax record. We thought about the title of the web page as "The Angle on Balboa"... as the home has many different angles... ceiling lines... staircase... decorator touches... and custom built-ins... but... what counts is the living experience. If you've ever tried to park on Balboa on a weekend... the garage will bring tears to your eyes. Spacious and cozy are not words you usually find in the same description... here they go together. And if you like the furnishings... it is offered Furnished and Decorated.

---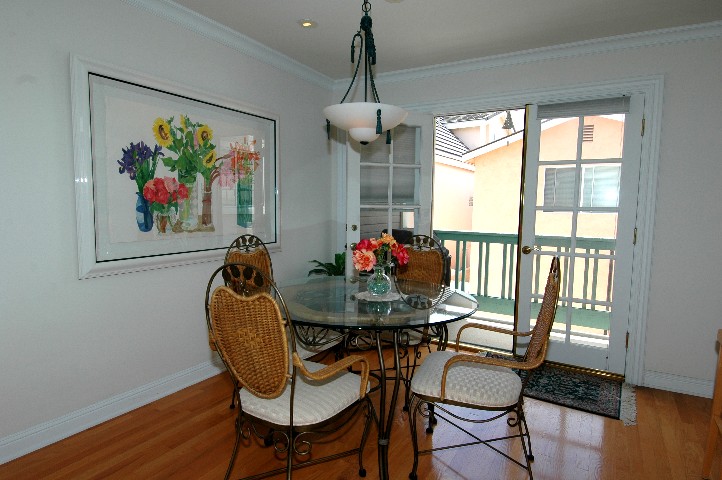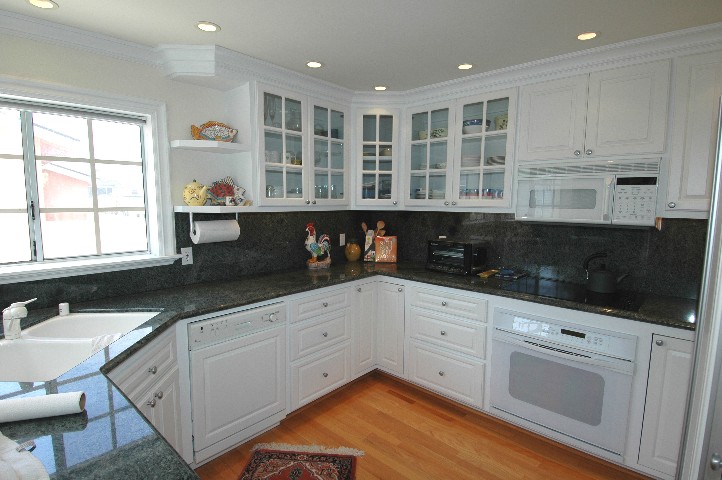 ---

Elegant dining at the Beach? Why not? Casual Dining at the Beach... daily! A private view and BBQ deck above the garage... and of course... everyone's favorite room... "Gourmet Party Central"... the Kitchen. Tons of storage... Miles of Gorgeous custom cabinets... Acres of Brazilian Granite counter tops and back splashes... well... you get the idea. This is spacious.. it is The Fun Zone. Excellent lighting... GE Monogram and profile appliances... through the door Ice and Water Side by Side Refrigerator/Freezer... this is the way it waits for you. When you arrive in town... pick up some fresh produce... call some friends... turn on some great music... and then if you don't want to cook... walk over to the Balboa Saloon... you could crawl home from there. Want a bit of dining Balboa History... head over to the Crab Cooker... they didn't make reservations for Richard Nixon... and they won't make reservations for you either.

---
Priced to sell in this Buyer's Market $799,000
---
Click here for another page of Photos and Information on a Newport Beach Condo for Sale
---

To have value range marketing explained, make an appointment to view the home, or have your home featured on the internet in this manner, contact: Terri and Paul Guess , Associate Brokers,

Prudential

California Realty. 527 Encinitas Blvd., Suite 100, Encinitas, CA92024. Phone: (760

)NEW

-HOME (639-4663) or FAX (760)940-6329 This home is offered through the San Diego County Association of Realtors MLS Number 080054579 We are also Members in MRMLS and our listings are exposed to all of the realtors in Riverside, San Bernardino, Orange and Los Angeles Counties at Listing # T08112381 also found on SoCal MLS as M109900. This extra effort and marketing investment Doubles Our Exposure on all subscribing sites such as Realtor.com
---
Visit our Real Estate Ramblings
Our Prudential National Web Site
Check Out Real Estate Excellence
Using the Power of Google to Market Your Home