Brook Hills Finest
Elegant 6 Bedroom View Estate
2051 Kristi Court
---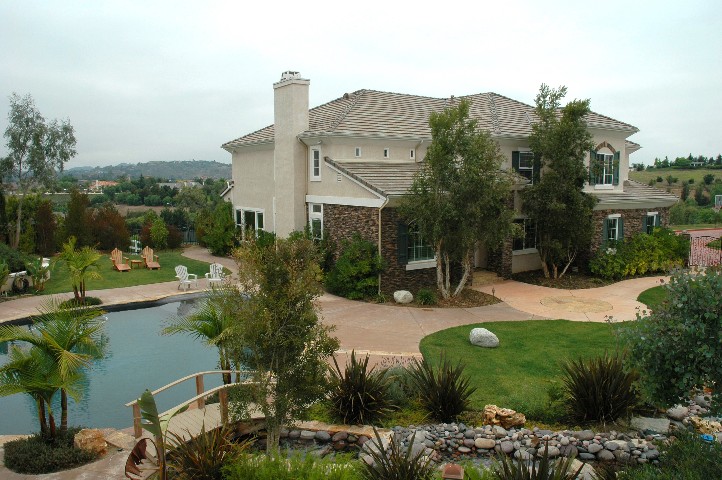 ---
Sold by Terri and Paul Guess... another Seller delighted with Excellence!
Click Here for Homes Currently for Sale
---
Wow... what a beauty. 2 Acres... of quiet and seclusion in wonderful Brook Hills Estates. A Huge "Family" or "Extended Family" panoramic view estate with every imaginable amenity. Six Full Bedrooms... plus an attached office/granny suite/maids quarters... 5.5 baths... four full garages plus a two car carport... your own par three backyard golf... Community Tennis... and all hidden below the quiet cul-de-sac... at the end of a beautiful gated drive... in
Beautiful Brook Hills.
Truly one of the Best Locations in the World for quality of life... this community and home represents one of the finest values in Southern California Real Estate. This Micro Climate ... Known for its
Weather ...has got to be experienced to be appreciated. All of San Diego County has good weather... this is the best. 85% Controlled by Marine Influence... only 15% by Interior Land Mass... you will experience living here and using your Air Conditioning maybe once a year or less. Unlike many of the rural communities in North San Diego County... Brook Hills has Natural Gas and Public Sewers. Forced Air Heat... Zoned areas for both heat and cooling... ceiling fans throughout the home... Wide French Doors for outside access... You'll probably live outside more than in.
---
Click Here for a Virtual Tour of this Beauty... Additional photos... Aerial view... School Links... and Demographics of the Area
---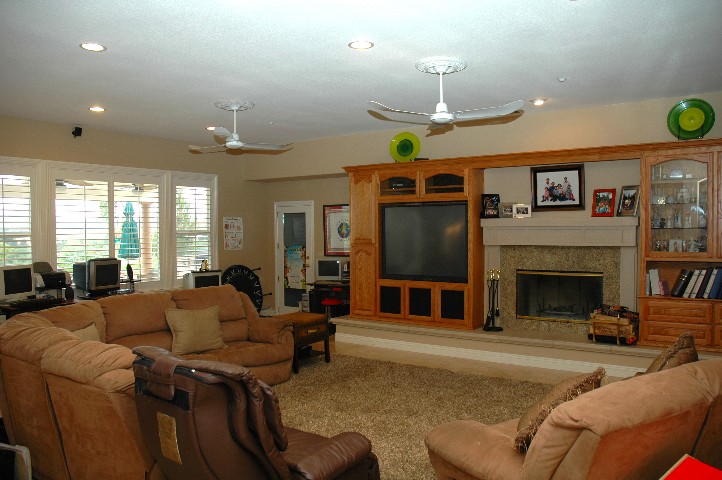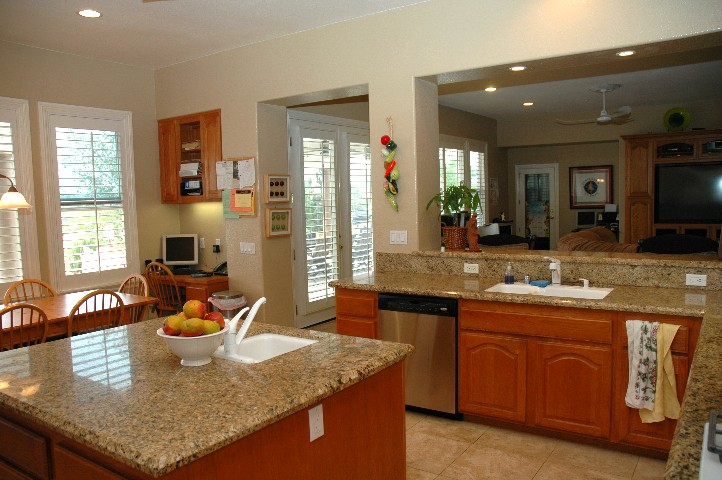 ---

Everybody's favorite floor plan... a Huge Family Room... flowing right off of the equally Huge Gourmet Kitchen. Over 50 extra canned lights have been added to the already bright home... and Plantation Shutters control natural light and air flow. It's apparent in the photos of this home.. that you can live in it without window coverings. Not only do you not see neighbors looking in on you... you don't hear them. You can enjoy yourself... entertain friends... golf in the back yard... play horseshoes... turn the kids loose... and the pets... and have fun. Noise pollution here is Eagles... Hawks... Owls... and pesky Crows. Beautiful Built-in cabinetry... romantic fireplaces... tons of storage... Eating space for nine in the Kitchen... the popular "Command Center" Kitchen Computer... top of the line appliances... Rich Flooring Textures... and just outside... The Patio Entertainment Center of Dreams... and access to the Spectacular Pool

---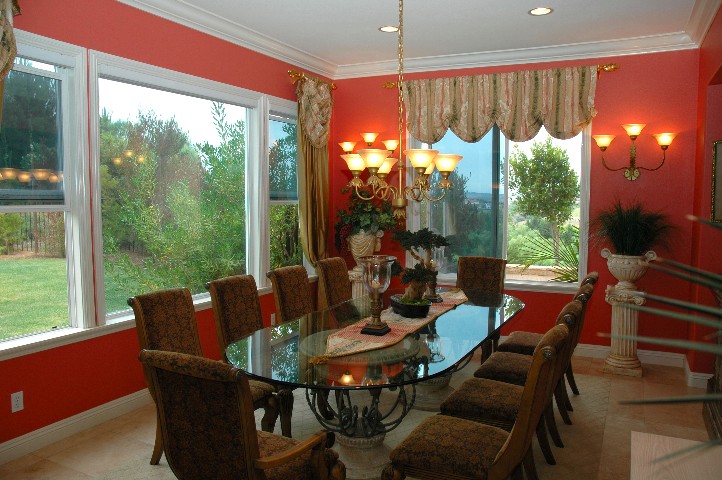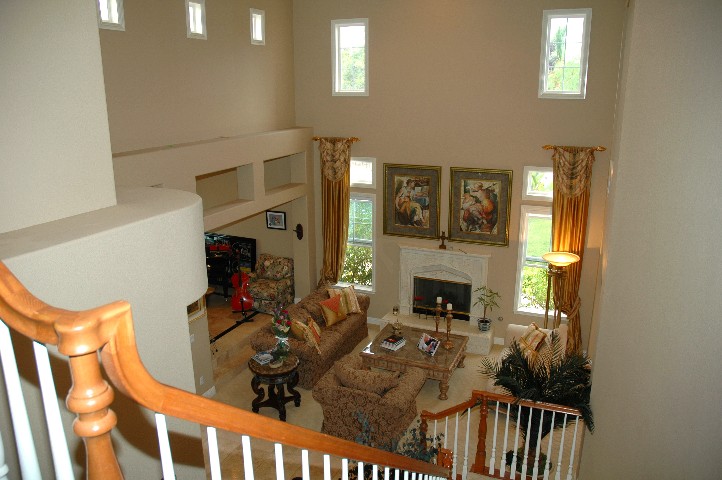 ---

Whether you like to entertain casually or formally... this is the home for entertaining. Weekly or Annually this is a formal dining room that will handle the party. Elegant Crown molding... rich textures... warm lighting... Designer Ceramic Tile flooring... beautiful thermopane windows... with a private view into the garden and beyond to the panorama. And... it is Huge... the third room we've used that word for. The photo on the right above ... taken from the second floor overlook... captures the drama and elegance of the formal living room. On additional pages of this web site will be more photos of the formal space... but what we wanted to capture here is one of the most unique aspects of this home. While huge... gigantic... spacious... enormous... large... and open.... it combines elegance and warm charm. It is not pretentious... it is not cold... it is not "un-lived-in". This is a home used to "Home Schools" 7 lucky children... and two proud parents. It exudes love... charm... character... personality... excellent taste... and it... in spite of its size is cozy and almost "Quaint"... exhibiting values too often missing in today's world.

---
Click Here for more Pages of Photos and Links for this Wonderful Home
---
This home is offered in Prudential California Realty's Value Range Marketing. The Seller will Entertain offers in a range of $1,300,000 to $1,499,876
---

To have value range marketing explained, make an appointment to view the home, or have your home featured on the internet in this manner, contact: Terri and Paul Guess , Associate Brokers, Prudential California Realty. 527 Encinitas Blvd., Suite 100, Encinitas, CA 92024. Phone: (760)NEW-HOME (639-4663) or FAX (760)940-6329 This home is offered through the San Diego County Association of Realtors MLS Number 051042121

---
Visit Brook Hills Common Club House and Tennis Center