Hialeah Estates
6750 Via De La Reina - 5.21 Acres
Truly one of San Diego's Finest Building Sites!
---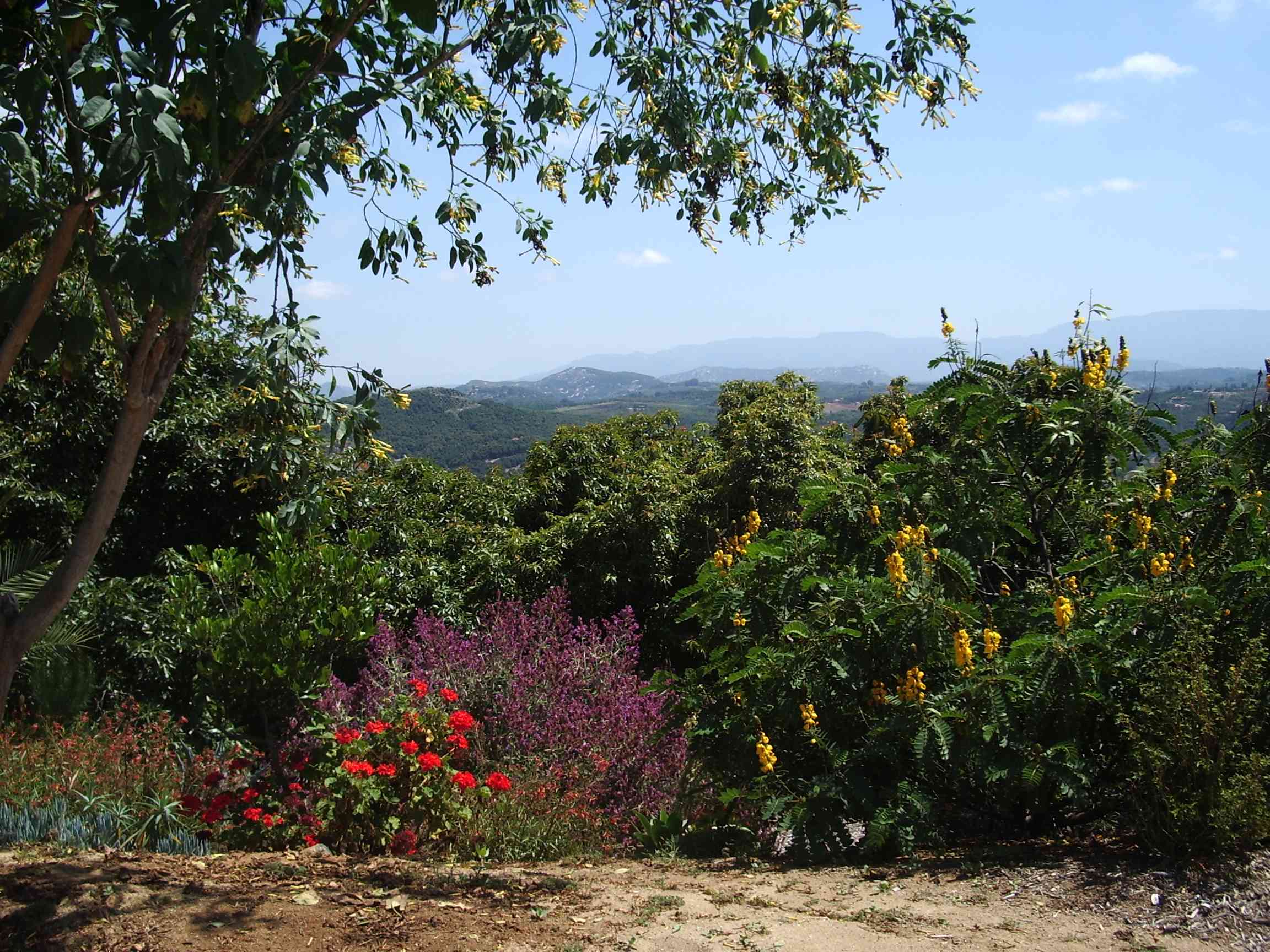 ---
This is the view... from Paradise! The most difficult thing to find in Southern California today... Quality Custom Home Building Sites... surrounded by like kind Custom Homes. Add to that request... Weather Paradise... Quiet... Privacy... Stunning View... convenient to shopping... convenient to freeways... notify your broker to let you know when they find it... then wait Years! If you've been looking... you know this is true. When they do come available... they sell at Premium Prices... and they sell... in any market. Here's your chance. Not a brush cover hillside... an approximate 1 Acre flat Useable Pad... total of 5.21 Acres... Lushly planted... and sporting a producing Haas Grove! Within a mile of the renowned Cal-A-View resort and Spa... and only a mile too from Spectacular Vista Valley Country Club. And... right at the top of Spectacular Hialeah Estates.
---
Click here for the first Property Specific Virtual tour of this Incredible Building Site... in Beautiful Hialeah Estates!
---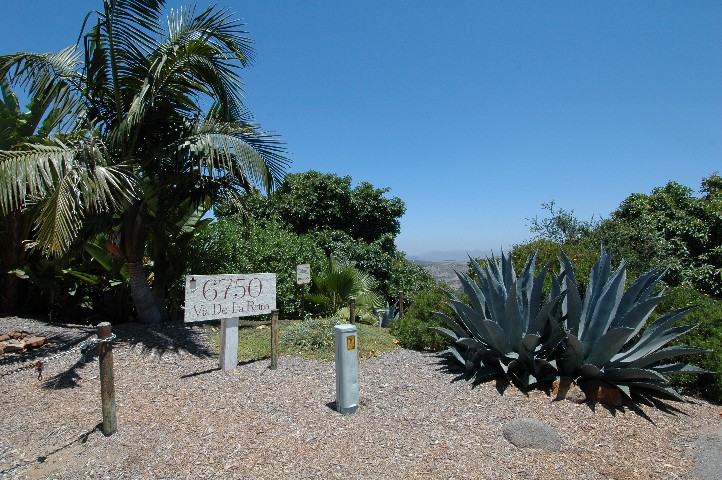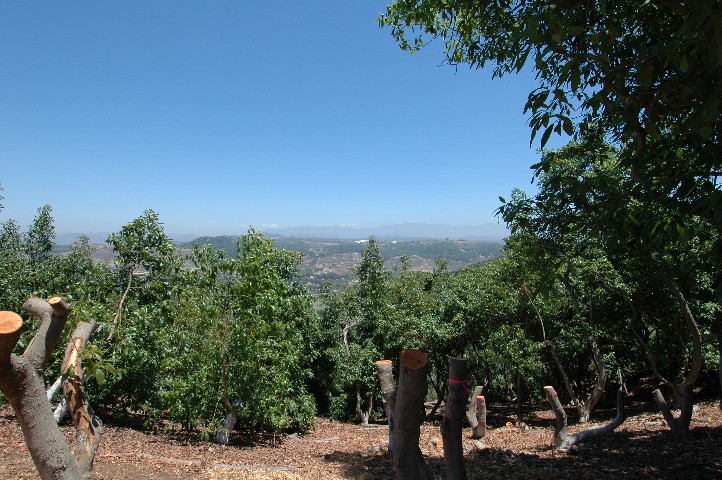 ---

Usually when looking at "Raw Land Building Sites"... you are crawling though underbrush... and sage... hoping not to meet a snake. Here the site is spectacularly planted... the first photo above with the two beautiful "Century Plants"... and elegant palms is just a hint. Wide flat access to the pad is off of the private paved streets... and all utilities are underground. San Diego Gas & Electric for electrical... and SBC for phones and Internet DSL Access. That's another thing... try to find an incredibly private site with broad band access... short of satellite. The flat useable pad is surrounded by Haas Avocados... approximately 350 of them... and the grove is beautiful. Groves are "topped" occasionally... to rejuvenate and increase production. In the second photo above... some of the trees have recently been topped... will soon be painted white to protect the bark... and note... the view! With the loss of few of the trees... or cosmetic "trimming"... this home site will have over 270 degree of truly Stunning Views!

---
Second Virtual Tour... so what is going on in the Neighborhood... and Why is Hialeah So Desirable?
---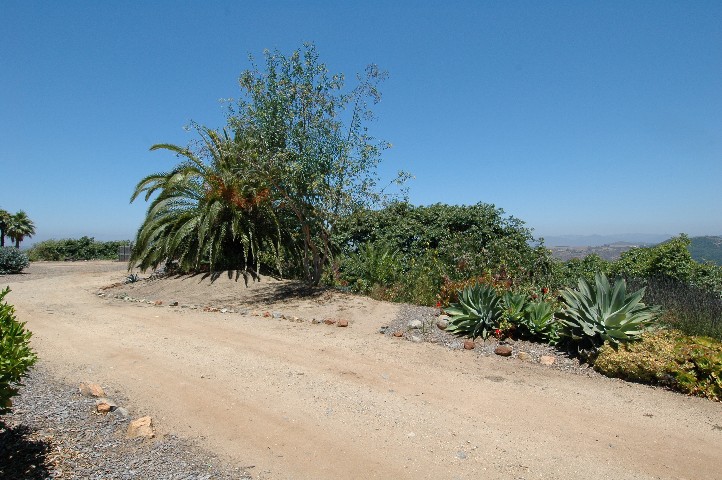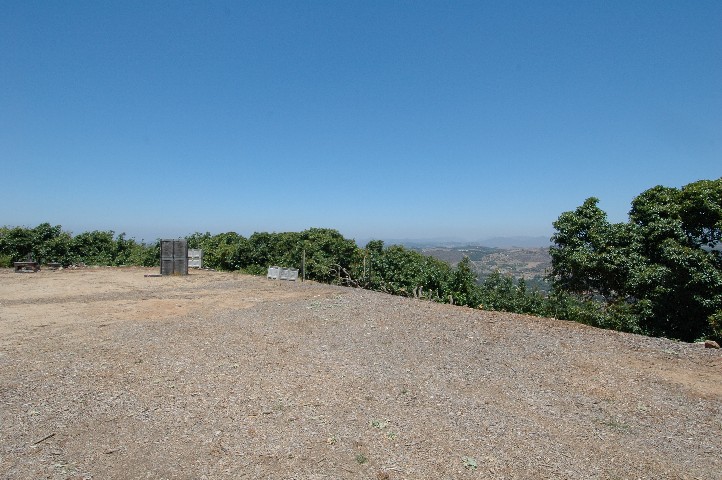 ---

Another difficult trait to building sites is that you don't get views on flat property... unless they are on the top! Here the home site has a wide drive access... out to the pad... removed from the quiet street... and maximizing the view potential. This home... regardles of style... will have a commanding curb appeal. It will be estately... with plenty of drive and turn around space... and... not at the top of steep drive... or tucked into the hillside below the grade of the road. The property truly enjoys a spectacular combination of traits... making it almost absolutely unique.

---
Click here to visit the Second Page of Information on this Spectacular Home site
---
This Incredible Building Site is offered in Prudential California Realty's Value Range Marketing. The Seller will Entertain offers in a range of $950,000 to $1,075,876
---

To have value range marketing explained, make an appointment to view the home, or have your home featured on the internet in this manner, contact: Terri and Paul Guess , Associate Brokers, Prudential California Realty. 527 Encinitas Blvd., Suite 100, Encinitas, CA 92024. Phone: (760)NEW-HOME (639-4663) or FAX (760)940-6329 This home is offered through the San Diego County Association of Realtors MLS Number 071002005 We are also Members in MRMLS and our listings are exposed to all of the realtors in Riverside, San Bernardino, Orange and Los Angeles Counties at Listing Number T676961 This extra effort and marketing investment Doubles Our Exposure on all subscribing sites such as Realtor.com

---
Visit our Home Page
St. Joseph on the Job in Hialeah Estates