Ocean View Equestrian Estate
---
2278 Sunshine Mountain Road
Buena Creek, San Marcos California
---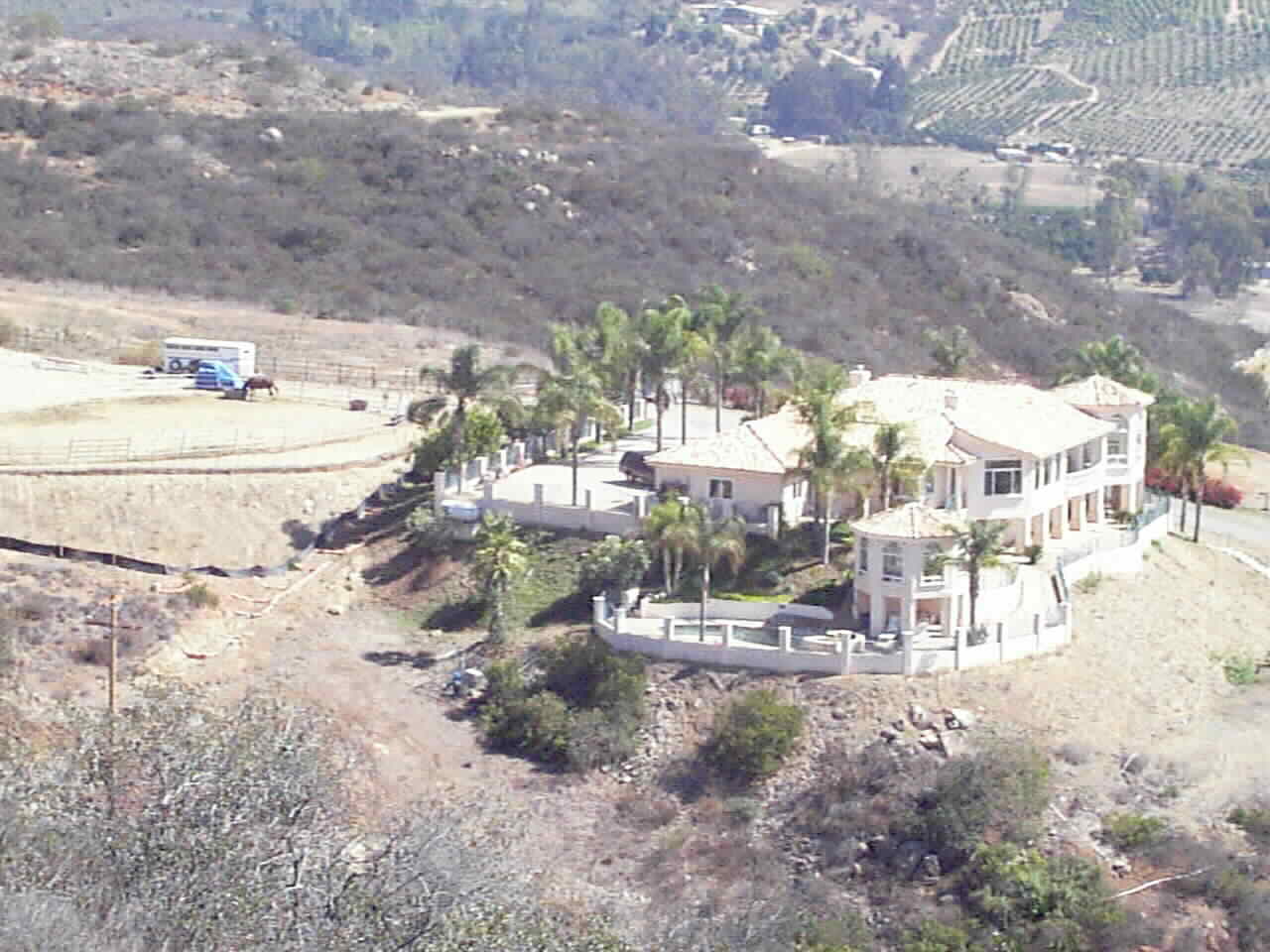 Seldom do you find this unique combination of Incredible Panoramic View and Flat Useable space for Equestrian facilities, Auto collection, Sports/Tennis complex, RV storage... or whatever. This 3 year new Custom 4,800 sq ft Mediterranean Villa perched high above Buena Creek has every amenity... and a Breathtaking View SE toward Cal. State Univ. San Marcos, and SW to Sunset Ocean Vistas.
---
SOLD Top of the Price Range $1,150,876 See our current inventory at Terri and Paul Guess
---
Please "Click Here" to Enjoy a Virtual Tour
---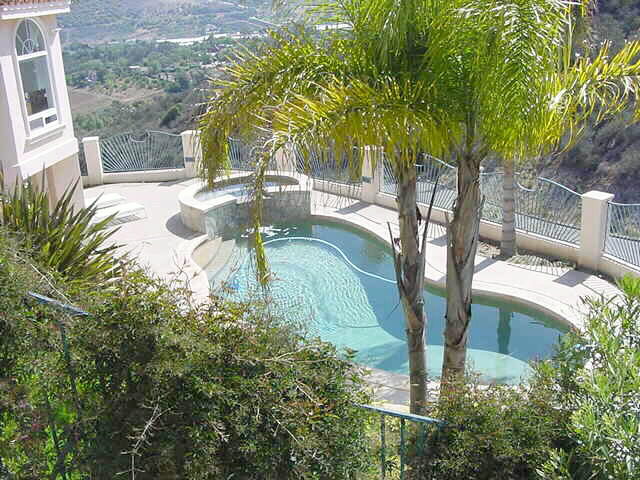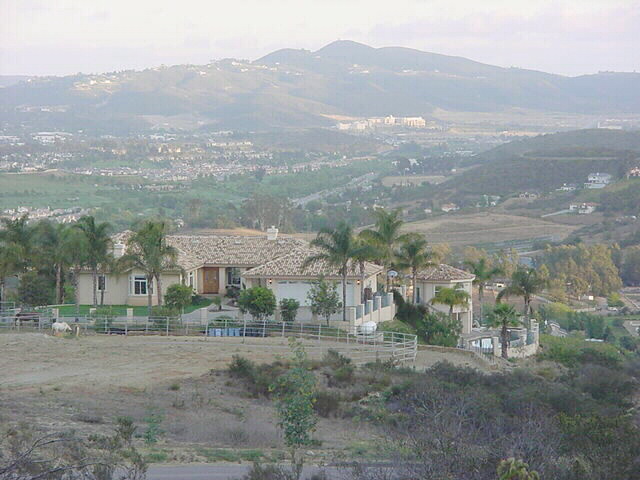 ---

The first of the two photos above show the Beautiful Romantic Pool area... complete with Spa, Waterfall, Ocean View, Outside Covered Entertainment area set up for complete gas kitchen, phone lines, Satellite feed, Electrical, Water, Shower, and gas fire ring. Surrounded by elegant custom sculptured wrought iron and accent lighted pilasters this is stunning by day... and breathtaking at night. The second of the two photos above is taken from the back of the 5.02 Acre parcel, showing the pad for a barn, space for the Arena or paddocks, and the view over the home to CSUSM in the late afternoon sunlight at the foot of Coronado Hills. 60 degrees to the right is a full ocean view... bringing incredible Sunsets... and cool ocean breezes.

---
If using Netscape, you may "right click" on any image and "view the image" in a larger format and greater detail.
---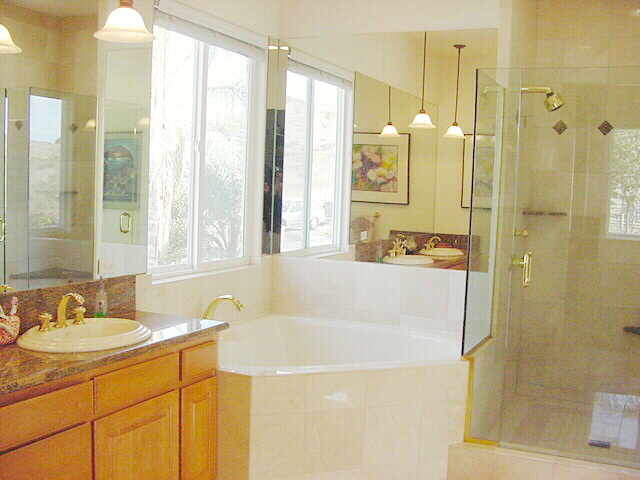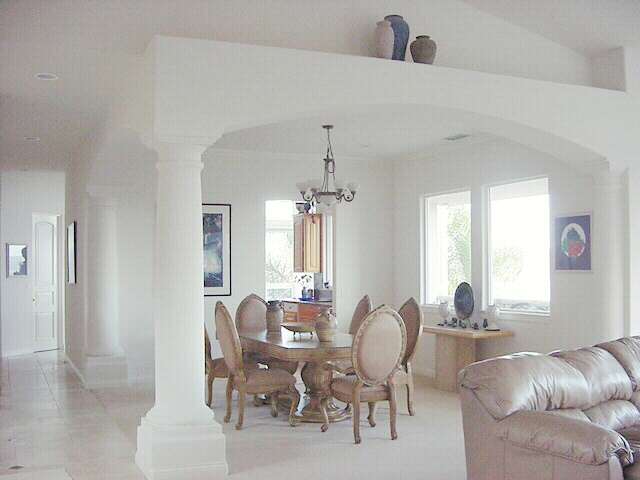 ---

The first of the two photos above is of the elegant, lavish, romantic master bath suite. Spacious double shower with Grohe shower heads, romantic double Jacuzzi garden tub, new style "extra height" double vanity, with rich granite and Moehn accented Kohler sinks... and Kohler commode of course. Custom lighting fixtures and audio throughout... and of course this opens to a "room size" master closet with windows and outside light... no more days of one black sock and one blue sock. The second photo to the right, above, shows the elegant formal dining room from the entry foyer. Classic columns, intimate dropped ceiling, rich designer tile... and of course the view to die for. This Spacious formal dining room will seat the largest of family and holiday gatherings.

---

Click here to Mapthe property. This wonderful site is close to the largest mall in San Diego County, excellent access to freeways, and mass transportation. In addition to location, location, location.. it enjoys weather paradise.

---

If you are considering the San Marcos Area... and have horses.. check out this link to the San Marcos Trail System ... Including 36 mile of multi-use riding trails.

---
Click Here for More Photos, Pricing Information and Showing Instructions

---
This home is offered in Prudential California Realty's Value Range Marketing. The Seller will Entertain offers in a range of $1,000,000 to $1,150,876
---

To have value range marketing explained, make an appointment to view the home, or have your home featured on the internet in this manner, contact: Terri and Paul Guess , Associate Brokers, Prudential California Realty. 523 Encinitas Blvd., Suite 100, Encinitas, CA 92024. Phone: (760)NEW-HOME (639-4663) or FAX (760)940-6329 This home is offered through the San Diego County Association of Realtors MLS #021051388

---
Visit our Home Page