Felicita Park Home for Sale
One of Escondido's Finest Residential Locations...
---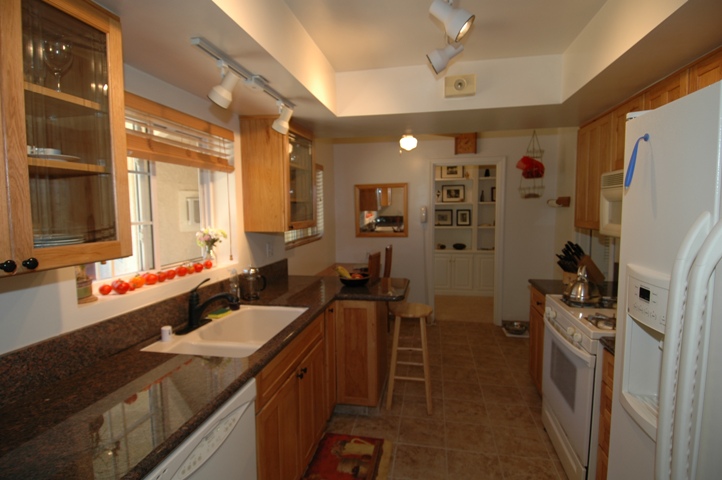 ---
In 1958... this Kitchen would have been the center of the home... as it is in 2010. Most similarities in the comparison stop at that. Picture "Youngstown Metal Cabinets"... Laminated Formica High Gloss "Cracked Ice" countertops... 9" Vinyl Asbestos floor tiles... a latest model "NuTone Kitchen Exhaust Fan"... metal frame "Jalousie Windows (that provide excellent cross ventilation... even when closed)"... "Galvanized Iron Pipe supply lines"... "Galvanized Iron Pipe drain lines"... "Leave it to Beaver vintage wiring"... some "Snappy Atomic Age" wallpaper.... "over the sink Fluorescent Lighting"... maybe a sparkly new Kohler Sink with modern Fluorescent Boxed lighting... a new dishwasher that came with a divorce... probably a "Dishmaster Faucet"... a "1958 Energy Efficient Frigidaire"... a Beautiful new Kitchen Range with "Time Bake"... and unbelievably... in 1958... a "Speedy Weenie Micowave" was available. Ok... that was fun... now Picture you doing all the work and getting rid of the waste material. Or.... Picture yourself in the photo above. The only thing 1958 about this home is the charm... personality... and character. It is almost like the prior owners have been doing everything they can to create the perfect home for you... and now offering it in the best buyers market we have ever seen... and the lowest Interest Rates in modern History.
---
Click here for a Virtual tour of this Spectacular Felicita Park Home for Sale
---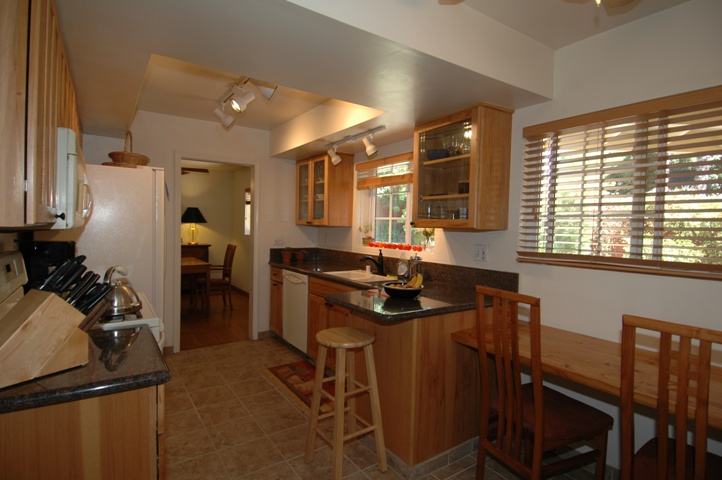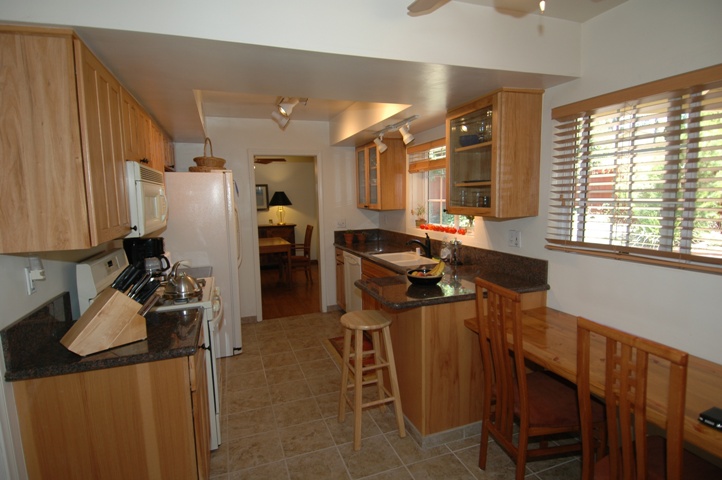 ---
With this spectacular remodel ... it is not just the fact that the work has already been done. You have to look closely to see the attention to detail... both in labor and choice of materials to truly appreciate what you are seeing. The asbestos is gone. The home is on a raised foundation... and all water supply lines are now copper. All plumbing waste lines are ABS or PVC plastic. The entire electrical service panel has been replaced and all wiring is upgraded. Elegant 18" Ceramic tile has been added here in the kitchen. Slab granite countertops... sit on gorgeous maple custom cabinets. Day or night the home sparkles with new designer custom lighting and skylights. Year round comfort is ensured with high efficiency vinyl Thermopane windows... and Decorator Ceiling fans. Light and airflow is elegantly controlled with custom blinds. New high efficiency appliances... more safety with the addition of GFCI outlets... and choices of lighting that create the coffered charming ceiling lines. Kind of looks like "I Love Lucy" meets "Sex in the City".
---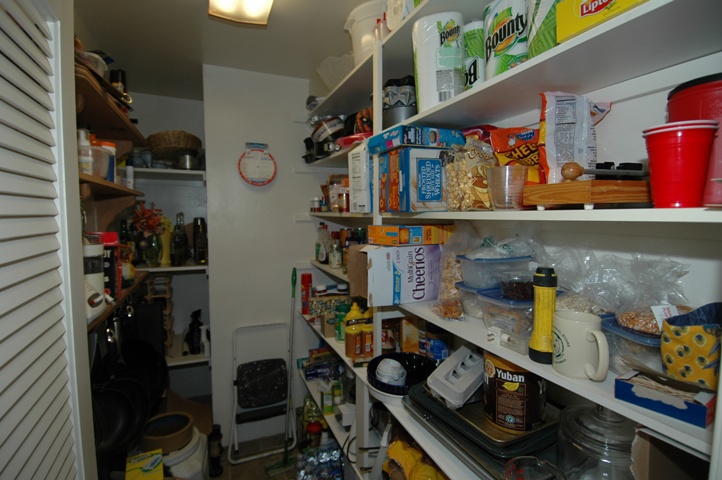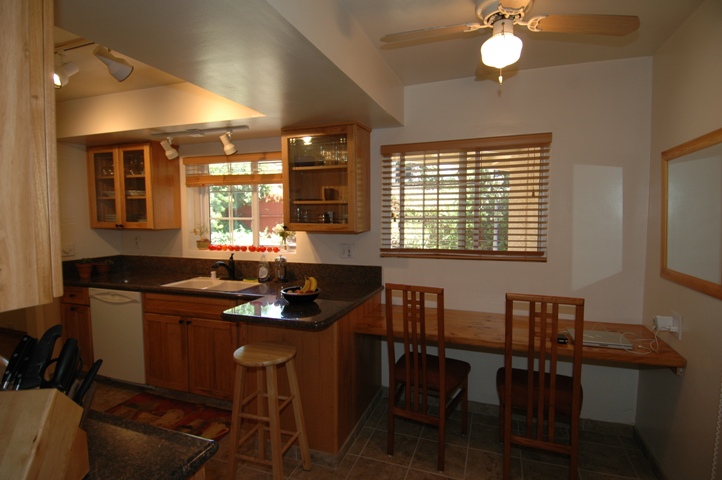 ---
In 1958... a family meal was prepared for each evening. Nothing has changed here. This is a functional working Kitchen... and look a that Pantry. Good thing this home is just minutes away from two different Costco's. Groceries... household supplies... Pots... Pans... all can be easily accessed... easily inventoried... and that ease of use translates to cooking healthier... eating healthier... and staying healthier. In the picture above on the right you see the new breakfast bar / Kitchen command center. What was maybe a corner dinette in the 1950's is today's casual eating space... or Kitchen access to Broadband World Wide Web. Searching new recipe's... paying bills... ordering online movies... here is the cool... comfortable space to run the home from. Cox Cable Communications broad band access to Television is already in the home... and Google at your fingertips is courtesy of AT&T DSL. If this home has any defect... it is that it is dangerously close to "Henry's" and "Trader Joe's". But exercise and working off the good meals is easy on this 1/3 Acre compound... and just across the street... Wonderful Felicita Park... with all of it's family facilities. Want to see a small but significant sample of the attention to detail? Notice the Counter top return just above the stool in the three Kitchen photos. Additional counter space provided... yet the eye flows through the space... and... additional seating does not impede the ability to move about.
---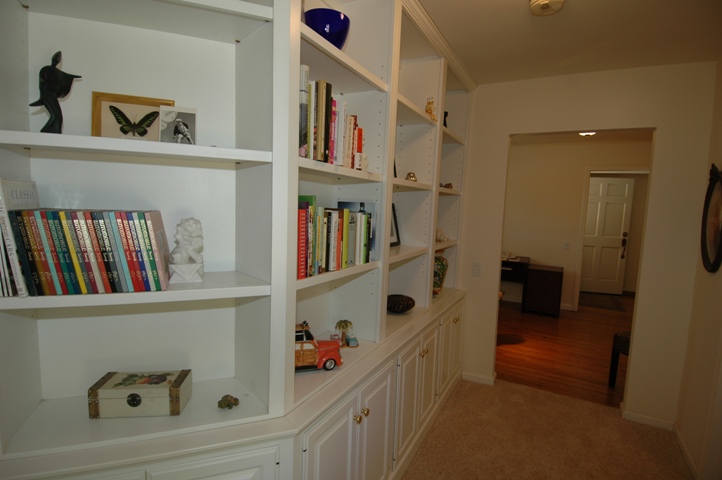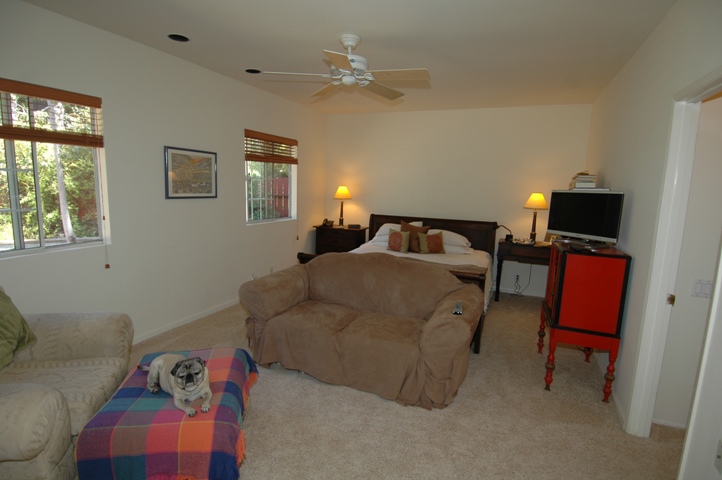 ---
Here we see what looks like another small room with custom bookcase built-ins. It is more like a breezeway... or wide open hallway with custom bookcase Built-ins... and it is off the back of the Kitchen... and joins the Office with hardwood floors... to the "Pug Guarded" romantic master suite. Spacious... with it's retreat space... and shaded by the seldom seen today broad overhanging eaves... it is bright... cheerful... cozy and inviting. In the breezeway you might notice the smoke detector and carbon monoxide detector... these were not around in the 1950's. In the new master suite pictured... you see too... another silent ceiling fan... and new canned recessed ceiling lighting. This is not a fixer home that somebody is flipping. This is a loved and cherished home that was remodeled to be lived in with pride. No corner's were cut... nothing has been "cheaped out". Everything you see was chosen to add comfort... function... utility... and value.
---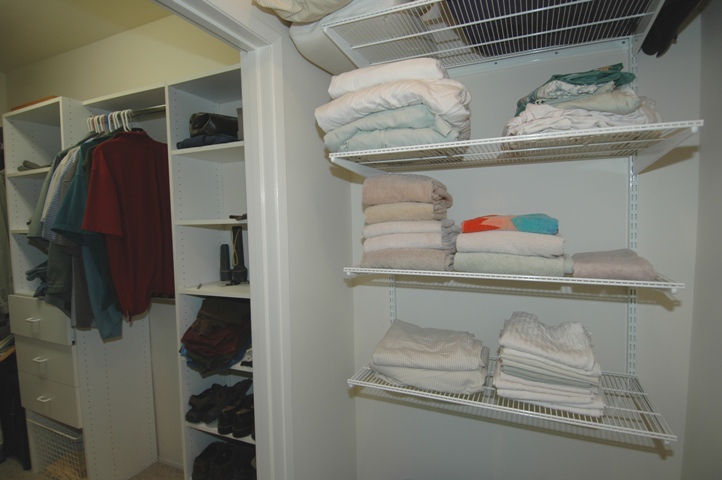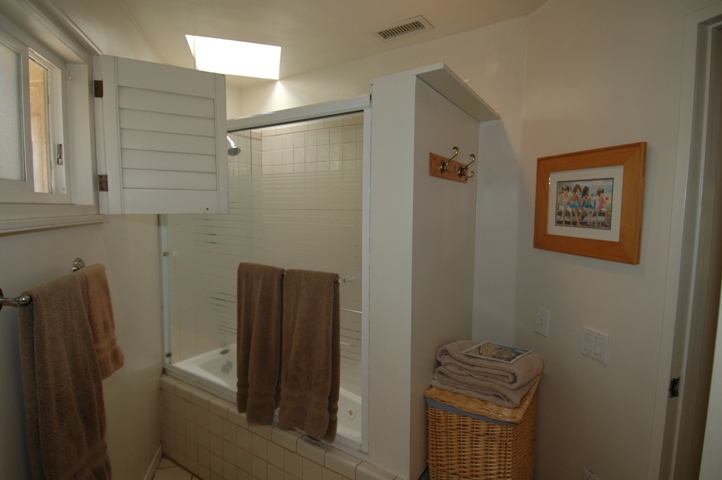 ---
Here we see the new Master Suite Walk in Closet and Master Suite Bath. The massive walk in close is larger than many bedrooms would have been in 1958. If the space were not enough... the closet organizer with drawers... shelves... and double hanging has been added... and for Linens... ventilating shelves to keep towels soft... dry... and fresh. The skylight lit Master Bath has shuttered window ventilation to the private yard... the squeaky clean new tub enclosure... and the Jacuzzi style tub is on a dedicated 20 amp circuit. The double vanity not shown... means no 1958 lines to get ready for work or evenings out. In Southern California... a home built more than 15-20 years ago is considered an old home. On the East Coast a home built in the 1700's or earlier is an old home. In 1958... this was a palace... a custom built state of the art palace. In 2010 it is better than new... more charming than new... truly move in condition... and better than a "Beta Blocker" for your blood pressure. Block the 21st century at the drive gate... step back in time and up in quality of life... you will like it.
---
Click here for another Page of photos and links for this Felicita Park Home for Sale
---
Seller will entertain offers in a range of $415,000 to $474,876
---
To have value range marketing explained, make an appointment to view the home, or have your home featured on the internet in this manner, contact: Terri and Paul Guess , Associate Brokers, Prudential California Realty. 7030 Avenida Encinas, Suite 100, Carlsbad, CA 92011. Phone: (760)NEW-HOME (639-4663) or FAX (760)940-6329 This home is offered through the San Diego County Association of Realtors MLS Number 100048991 We are also Members in MRMLS and our listings are exposed to all of the realtors in Riverside, San Bernardino, Orange and Los Angeles Counties at Listing Number T10087097 This extra effort and marketing investment Doubles Our and Your Exposure on all subscribing sites such as Realtor.com. Paul's California Brokers Lic # 01127312... Terri's California Brokers Lic # 00977800
---
Visit our Real Estate Ramblings
Our Prudential National Web Site
Using the Power of Google to Market Your Home
Please Join Our Network of Contacts on Linkedin.com
Get the Latest on Twitter with Terri and Paul
See our listings and your home on YouTube